Turbo Compressor & Fan Systems
Boldrocchi designs, manufactures, delivers and maintains all systems around turbo compressors and fans, from air intake systems to stack dampers. Our experience in air intake systems is supplemented by expertise in dampers, diverters, air cooled heat exchangers and noise protection.
Air intake systems
Intake duct systems
Silencers
Filter housing
Anti-icing systems
Acoustic enclosures / hoods
Exhaust gas systems
Exhaust ducts
Silencers
Vertical stack
Ventilation systems
Cooling systems
Air cooled heat exchangers
Stack dampers
Gas Turbine Systems & Noise Protection Case Studies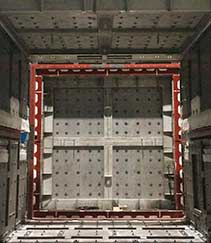 Delivering Diverter Damper Systems to Nigeria Within a
Mere 4 Months
In 2016, Boldrocchi was awarded a contract to supply eight (8) diverter damper systems for six gas turbines, to be installed at a refinery in Lekki, Nigeria. The goals: achieve reduced wear & extended operational life. Thanks to our large in-house facilities, all 8 were assembled at once. They were then tested in-house in the presence of the customer's inspectors. Turnaround was very short – at least for the first two – and Boldrocchi delivered within a mere 4 months.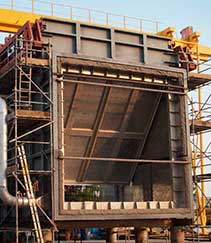 Helping
Close an Open-Cycle Circuit

on a Gas Turbine in Oman

Boldrocchi helped close an existing open cycle circuit on a GE turbine in Amal. We designed four various dampers and diverters and had them made on-site, constantly supervising fabrication. Installation of the diverter, also supervised by Boldrocchi, was a significant challenge: the diverter measuring 5.2 x 5.2 m (17' x 17') had to be fit into the existing circuit with a mere 20 cm (8") clearance!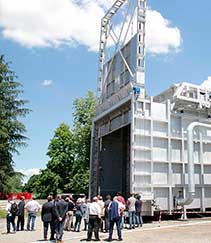 Boldrocchi Successfully Tests
7m X 7m Diverter

for Gas Turbines

Boldrocchi welcomed over 30 customers from some of the largest OEMs to its in-house testing facilities near Milan, Italy in 2018, for the functional testing of an enormous 7m X 7m (23' X 23') diverter damper. The gas turbine diverter, one of three delivered to the client, not only offers extreme capacity, but surpasses the norm in terms of geometrical sealing, sealing pressure and closing time, while reducing maintenance and easing transportation and assembly.