Centrifugal Fans
We've been engineering and manufacturing centrifugal fans for over 100 years and we've grown the product line through acquisition. Our goal? Continue to have more expertise than anyone else in the market.
We've created over 30 main centrifugal fan designs yet customize each one for every customer. Our expert team will design the optimal combination of materials, blade design, impeller size, etc., so that your objectives are met or surpassed. We can engineer and manufacture our centrifugal (radial) fans to operate with nearly every process condition, in any type of application across a multitude of industries.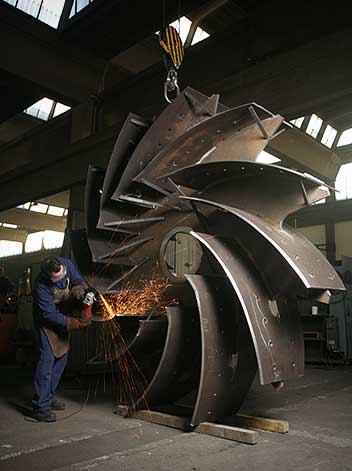 Flow rates up to 2,500,000 m3/hr (1,470,000 ft3/min)
Installed power up to 10 MW (13,000 hp)
Tip speeds over 220 m/sec (720 fps)
Special blades design, such as air foil profile, to ensure extreme efficiency and low power absorption, as well as specialty fans such as for chlorine processing and steam compression
High yield materials including S690QL, ASTM 514
Corrosion resistant materials including stainless steels, duplex steel, titanium, Inconel, Hastelloy, etc.
Special liners & coatings, including hard rubber liners and glass flake coating
Wear resistant materials including Creusabro®, Vautid®, chromium carbide & tungsten carbide plates
Design according to API 560, API 673
ISO 9001
Impellers in fabricated steel construction
Fan shaft machining
Qualified welding procedures according to ASME, AWS, EN norms
Virtually no limit to the type of material
We can test ducts of up to 3 m (10'), balance up to 5 m (16') diameter and up to 40 tons, run tests at full speed for fans up to 5 MW (6705 hp), and complete unit tests for motor ratings of up to 5 MW (6705 hp), with a 11 kV supply.
Test room capacity: 2000 kW VFD (2,682 hp), up to 11 kV transformer
Non-destructive tests: UT, MP, dye penetrant test, RX
Rotor balancing: ISO 1940, DIN 2060
Performance – aeraulic tests: AMCA 210, ASME PTC11, BS 848
Thermal & acoustic test facilities
Tests: Pressure, hot gas, shock and more
We can machine shafts up to 30 tons, impellers up to 5 m (16') in diameter and shrink up to 12 m x 5 m (39' x 16'). Few other companies in Europe and in the world can offer this.
Industries & Applications
Power – Coal, Biomass and WTE
Combined Cycle Power Plants
Fertilizer & Chemical
Oil & Gas
Cement & Lime
Iron, Steel & Non-Ferrous Metals
Paper
Glass
Incinerators
Naval applications
Industries & Applications
Power – Coal, Biomass and WTE
Combined Cycle Power Plants
Fertilizer & Chemical
Oil & Gas
Cement & Lime
Iron, Steel & Non-Ferrous Metals
Paper
Glass
Incinerators
Naval applications
Fans, Blowers & Compressors Case Studies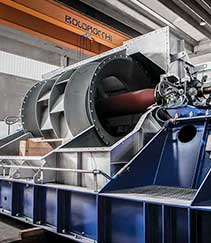 Engineering
Fan Systems

for a Hydrogen Reformer at a Photovoltaic Power Plant in Bulgaria

Boldrocchi was hired to provide the fan systems for a hydrogen reformer at a photovoltaic power plant (PPP) near Burgas, Bulgaria. Boldrocchi designed, manufactured and tested the combustion air and flue gas fan and its system for this project. It involved a 700 kW induced draft fan and the fan machinery train. What was most interesting about this project was its special construction on spring isolators. The entire system had to be designed to be mounted on top of the reformer's steel structure.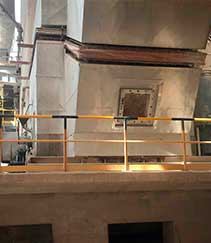 Revamping

a Fan in Mexico: Performance Up, Costs Down

In 2016, Boldrocchi was awarded a contract to revamp a kiln fan at a cement plant in Tepetzingo. Plant officials were looking for a major performance increase but had a limited budget. Our kiln fan revamp increased the fan's performance by 40% while saving 30% in costs. To further reduce costs, we designed a partial casing replacement to allow the client to keep most of the existing casing.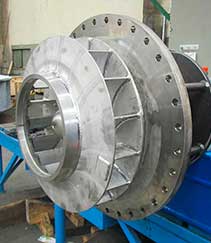 Boldrocchi Builds
Special Test Facility

for Turkish Order of Multiple Blowers

Boldrocchi engineered and manufactured a number of systems for a refinery in Izmir, Turkey. Among the systems: a CCR Chlorination Blower used in petrochemical chlorination and catalyst regeneration processes.

In order to satisfy the process requirements, Boldrocchi built a special test facility to check the blower's performance at various temperatures, up to 600°C (1112°F). Boldrocchi also designed and fabricated a cooler blower, a combustion air blower, a recycle gas blower, a fines removal system and a regeneration blower.