Air Cooled Heat Exchangers
In industrial and power generation process applications, our process flow heat exchangers – or air cooled heat exchangers (ACHE) – cool gas, oil, hydrocarbons, steam and vapors with air or gas. We can design and manufacture them for any pressure and temperature parameters to meet the most demanding conditions.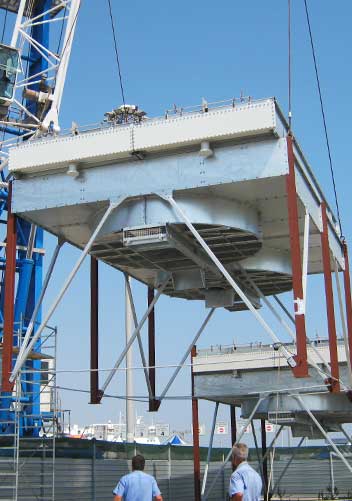 High pressure & temperature options
Customization to withstand the most demanding circumstances and locations:

Extreme temperatures
Corrosive environments
Seismic areas
Other demanding conditions

Expert problem-solvers for complex installations
Mechanical design meeting ASME, API 661, "U" & "CE" stamps available, CUTR adherence available
Construction with a wide variety of special materials (super duplex, duplex, alloys, titanium, etc.)
Tube bundles can be manufactured with:

Finned tube type
Bare tube type (no finning)
Plug header type
Cover plate header type
D-header bonnet type
Manifold header type

In-house produced finned tubes with 11 finning machines producing:

Footed fins
Embedded fins
KLM construction
All available in ½" to 2" diameter and a variety of metals
A large space inside our testing workshops is devoted to testing ACHE products. We also have considerable space outside our workshops to test the largest heat exchangers.
Ultrasonic inspection (UT)
Magnetic inspection (MT)
Penetrant test (PT)
Hydrostatic test
Leak test
Radiographic inspection (RT) also available
Running test (with noise and vibration tests)
Boldrocchi designs and manufactures air preheaters, which heat air before another process (for example, combustion in a boiler). Air preheaters are used to increase the thermal efficiency of the process.
Often supplied with Boldrocchi fans, these air preheaters are main components of several processes, including in the fertilizer industry.
Industries
Oil & Gas/Refineries
Fertilizer
Chemical
Gas Turbine Power
Power (Coal, WTE, Biomass)
Iron, Steel & Metals
Applications
Gaseous & liquid hydrocarbons, steam, vapors
Water & lube oil closed circuit systems
High pressure intercoolers & after coolers
Compressed air & gas coolers
Gas heaters & coolers
Air pre-heaters & heat recuperators
Special applications
Heat Exchangers & Coolers Case Studies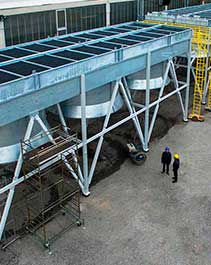 Engineering 9 ACHEs for a
Complex O&G Project

in Kazakhstan

Boldrocchi designed, manufactured, inspected & tested nine (9) high performance air cooled heat exchangers (ACHE) solutions for a complex project in Kazakhstan and delivered all products in an impressive 11-months. The quick turnaround for the project occurred despite several challenges: the ACHEs had to be light enough to be mounted atop pipe racks, efficient & reliable while using external recirculation in extreme temperature variations, and sturdy as they're in a seismic zone.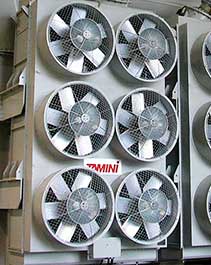 The
Highest Capacity Transformer Coolers Ever Realized

for an Aluminum Smelter in Canada

Boldrocchi was the only company up to the challenge of engineering and manufacturing 10 enormous transformer coolers for an aluminum smelter in Quebec, Canada. Indeed, the 10 coolers had capacities of 800 kW each with very low oil operating temperatures and represent the highest capacity transformer coolers ever realized. Boldrocchi was contracted to engineer, manufacture and ship the ten enormous transformer coolers to an aluminum smelting plant in Bécancours, Canada.
Cooling System for a Large Motor

at the World's First LNG Plant to use Combined-Cycle Technology

Boldrocchi engineered and manufactured an air-to-water cooling system for a large motor at an LNG Project near Darwin, Australia. Boldrocchi designed & manufactured all parts of the cooling system with a power to dissipate of 600 Kw: the heat exchanger, tubes, fans, circulating pump & electrical devices. Our in-house facilities allowed us to undertake thermal, mechanical, structural, stress and noise tests, guaranteeing peak performance and reliability. This cooler was ASME VIII tested with a pressure 16 bar, and designed to work at an air temperature of 10°C (50°F). It has double tube cooler elements and includes four centrifugal fans (ext) with installed power of 75 Kw each. It was engineered to provide 100% redundancy.

This project was an important one: it is the world's first liquefied natural gas (LNG) plant to use combined cycle technology. The onshore plant is powered by natural gas from the Ichthys Field.