Fans, Blowers & Compressors
Boldrocchi is one of the oldest and most experienced rotating equipment manufacturers in the world, as our first industrial fan installation dates back in 1909. With more than a century expertise we can cover virtually any industrial application with the highest quality standards and leading-edge technology in the market.
Our solutions, easy to maintain, durable and efficient have been positively installed and operated by major end users in various heavy industry sectors all over the world. All our fans, blowers and compressors can be tested in our 3.000m2 state of the art testing facility where almost any test can be performed and even be witnessed by clients from remote.
Boldrocchi rotating equipment product range include: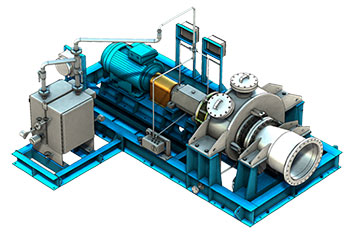 The company is a worldwide leader in the production of tailor-made industrial heavy-duty fans with installed power of up to 10 MW (13,000 hp). Our fans can be provided with different materials for chemical resistance to corrosive fluids and various types of wear resistant materials or removable liners for high durability in applications with erosive dust. Different blade profiles are available to optimize efficiencies and power consumption based on expected operating conditions and dust loads.
Our high pressure blowers, are the first choice where safe operation, high availability and low power consumption are required. As per our fans, Boldrocchi's blowers are provided in different materials, sizes and shapes in order to meet any process conditions. High pressure ratings can be covered by multistage design with multiple impellers on single train.
Compressors manufactured by Boldrocchi are one step forward in high pressure applications and typically stands for high efficiency and low investment outlay. They can be supplied in single or multistage depending on pressure requirements and in integrally or externally geared solutions in line with application and customer requirements. Various gas sealing arrangements are available to cover gas applications assuring positive sealing against atmosphere.
Learn more about our products