Electrical Machine Cooling
Boldrocchi has been designing and manufacturing electrical machine coolers for over 80 years for customers in power generation and heavy industry. We offer a single point of contact for all systems involved in cooling – including air intake, exhaust, ventilation, filtering, noise control systems and various electronic devices – which results in a quicker turnaround and a guarantee of performance and reliability.
We work differently at Boldrocchi: we analyze your parameters and custom design coolers that specifically fit your needs and optimize the cooling process. We are not only committed to quality, but on-time delivery, and as such, have earned awards from our customers.
…thanking Boldrocchi for the flexibility and cooperative approach…always granting on time delivery and quality…
Pavel Lukes, COO Generators Division, Brush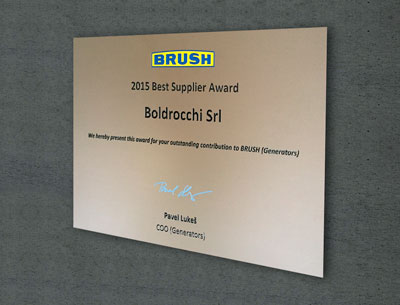 Solutions for
Motors

&

Generators
Air-to-air coolers (CACA)
Types:

Direct forced ventilation
Forced ventilation with fan installed on motor shaft
Forced ventilation with fan in-line with cooler
Combined forced ventilation

Other:

Axial and centrifugal fans
Noise protection
Air-to-water coolers (CACW)
Single & double tube cooler elements

Without internal fan
With internal fan

Connection water piping (in a wide variety of materials: carbon steel, stainless steel, titanium, copper-nickel alloys, etc.)
Centrifugal fans
Noise protection
ASME VIII / U STAMP
API 541 & 546
Hydrogen-to-water coolers
Complete closed-loop cooling systems
around generators for hydro power plants
Weather protection canopy
Natural ventilation
Axial and centrifugal fans
Noise protection
Maintenance
Over 28,000

heavy-duty motors & generators worldwide are equipped with Boldrocchi equipment.
Solutions for
Transformers
We provide coolers for both power and industrial transformers around the world.
Oil-to-air coolers (OFAF/ODAF)
Oil-to-water coolers, single tubes (OFWF)
Oil-to-water coolers, double tubes (OFWF)
Forced air, forced water cast resin coolers (AFWF)
Axial flow fans (including for oil natural air forced (ONAF) cooling systems)
Circulating oil pumps (radial, inline)
Noise protection systems/silencers
Connection piping
Fastening
Handling & storage
Over 19,000

transformer coolers have been installed on power & industrial transformers around the globe.
Our coolers can be supplied with third party approval from:
ABS American Bureau of Shipping
BV Bureau Veritas
DNV Det Norske Veritas
LRS Lloyds Register of Shipping
RINA Registro Italiano Navale
RMRS Russian Maritime Register of Shipping
Heat Exchangers & Coolers Case Studies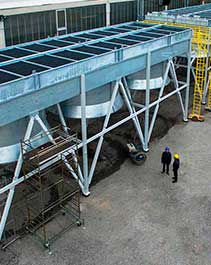 Engineering 9 ACHEs for a
Complex O&G Project

in Kazakhstan

Boldrocchi designed, manufactured, inspected & tested nine (9) high performance air cooled heat exchangers (ACHE) solutions for a complex project in Kazakhstan and delivered all products in an impressive 11-months. The quick turnaround for the project occurred despite several challenges: the ACHEs had to be light enough to be mounted atop pipe racks, efficient & reliable while using external recirculation in extreme temperature variations, and sturdy as they're in a seismic zone.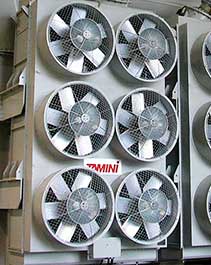 The
Highest Capacity Transformer Coolers Ever Realized

for an Aluminum Smelter in Canada

Boldrocchi was the only company up to the challenge of engineering and manufacturing 10 enormous transformer coolers for an aluminum smelter in Quebec, Canada. Indeed, the 10 coolers had capacities of 800 kW each with very low oil operating temperatures and represent the highest capacity transformer coolers ever realized. Boldrocchi was contracted to engineer, manufacture and ship the ten enormous transformer coolers to an aluminum smelting plant in Bécancours, Canada.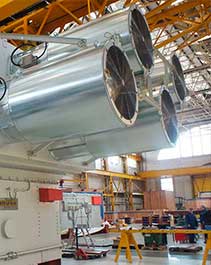 Cooling System for a Large Motor

at the World's First LNG Plant to use Combined-Cycle Technology

Boldrocchi engineered and manufactured an air-to-water cooling system for a large motor at an LNG Project near Darwin, Australia. Boldrocchi designed & manufactured all parts of the cooling system with a power to dissipate of 600 Kw: the heat exchanger, tubes, fans, circulating pump & electrical devices. Our in-house facilities allowed us to undertake thermal, mechanical, structural, stress and noise tests, guaranteeing peak performance and reliability. This cooler was ASME VIII tested with a pressure 16 bar, and designed to work at an air temperature of 10°C (50°F). It has double tube cooler elements and includes four centrifugal fans (ext) with installed power of 75 Kw each. It was engineered to provide 100% redundancy.

This project was an important one: it is the world's first liquefied natural gas (LNG) plant to use combined cycle technology. The onshore plant is powered by natural gas from the Ichthys Field.